---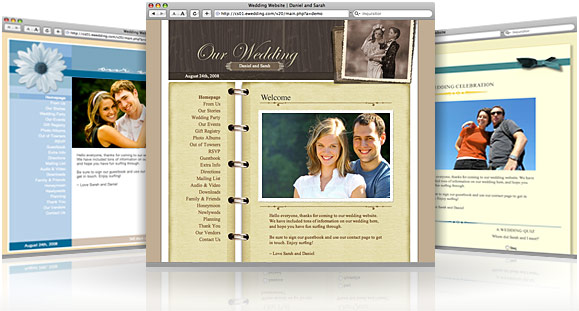 Everything you need to create a fully-featured wedding website
Post dates, directions, RSVP, registries and more. Upload unlimited photos and make changes around the clock. Even change the theme of your website as often as you like.
RSVP Managment

Allow your guests to RSVP online to save time and a stamp. Collect meal choices and other preferences.

Optional password protection for the RSVP page, or for individual RSVP events. Set the maximum number of people a guest can RVSVP for as well. All data can be downloaded at any time or viewed in your control panel.

Photo Albums

Create unlimited photo albums and upload thousands of pics. Quickly add, edit and manage your pics.

Upload up to 5 photos at a time and sort and re-order with drag and drop ease.

Audio & Video

Upload a video of your proposal, and the song you will walk down the aisle to. No limit on media files.

If you have background music playing, users can just hit the stop button while on your A/V page.
Downloads

Upload files to your website for visitors to download. This could be maps, an itinerary, photos and more.

Upload a variety of file formats: doc, pdf, jpg, jpeg, gif, png, mpg, mpeg, mp3, mid, avi, mov, txt and pps

Polls & Quizzes

Find out how much, or how little, your friends and family know! Unlimited polls and quizzes can be very fun!

You can also use these tools for gathering information from guests, like 'What's your music preference?' and let them choose from 'Rock, country, oldies, disco', etc.

Mailing List

Let your visitors stay up to date on your wedding and news by joining your own mailing list. Send mailings any time.

You can add, edit or delete people on your list through your control panel at any time.
Custom Domain Name

*

Select your own custom domain name, www.*****.com. Short and personal for e-mail, invitations and Save the dates.

* Custom domain name is for upgraded accounts only. Free accounts receive a custom eWedding URL.

Password Protection

Protect your privacy and wedding details with the optional password protection. Security like Fort Knox.

Password protect your complete website or just individual pages. Even protect RSVP's individually if you like.

Events

Everyone needs to know when and where, let everyone know by posting this right on your site. Save on phone calls.

You can even attach a photo of where the event is, link to the venue and include a map and directions. What more could your guests need!?
Available Pages
Don't worry about not having enough space or pages to hold your information, we have everything you could need, and more. Here's a list of pages and tools you will find on your website.
Functionality
These tools, options and features make your website powerful, flexible and of course, beautiful.
Create your free wedding website in under 5 minutes
---
Testimonials

"I stumbled upon ewedding while i was looking for a simple online RSVP for our wedding. After looking on ewedding i decided to start a trial account to see what ewedding offered. Without no interest in doing a web page, that change completely after i saw how easy and how elegant their site was. I would highly recommend the use of this website for an excellent way to have your guest be able to log on and RSVP, leave comments, and have a more interactive way to get involved. I havent had my website posted yet but im excited to send my RSVP card with my URL on them to see what people think!
"

Mary and John
OR, USA
---
Website Features
We offer everything you need to make your wedding website a success. Included features are:
Unlimited Photos
Unlimited Events
Unlimited RSVP's
Unlimited Updates
Unlimited Support
---
---